Recently, I was asked, "So how did you get into all this Disney stuff?" I paused to think about that, because I never have. I remember my parents taking us to Walt Disney World when we were young... but they're foggy memories. I don't feel a great deal of emotion behind them when I think about them. So I guess I'd have to trace it all back to somewhere after my divorce. My son was 2, my ex was barely in the picture, and my main focus in life was enriching and nurturing the bond between my sweet little boy and myself.

When my son was 3, a friend of mine mentioned how she and her girls were going to Walt Disney World. My first thought was, "Wow, I could never afford that." But then I thought about it harder... and the wheels in my head began spinning. My friends thought I was completely insane to even think about going to such a massive place as Walt Disney World with just myself and a toddler. My family knew me better and just smiled and rolled their eyes at me. They knew that I had always been fiercely independent, and rather tenacious once I got an idea in my head. *grin*

That was 1999, and that is when I found the DIS boards (Disney Information Station message boards) and began to do some research among the fine people there. (And to this day can't go an hour without checking the DIS boards!) I made plans to go the same time as my friend and her daughters, but we were only going to meet up a couple of times. For the most part, my son and I would be on our own.

That first trip was in February 2000, and our week in Walt Disney World was capped by my little boy turning 4 while having breakfast up in the castle, being loved on by princesses. We stayed at All-Star Music, one of Disney's value resorts, and we had an absolutely magical time. Just magical. I even booked us again for the next February!

This time we were at All-Star Movies, and felt so much more comfortable with everything. My almost-5 year old was giving other park guests directions, and showing them how to use FastPass machines. Even at 5, he was able to articulate how much this place meant to us when he solemnly told a grocery store clerk in our town, "Oh, we have a house in Pearland, but our home is at Disney..." Not that we don't have overflowing pride for our town here, but I knew exactly what he meant.

But our addiction was about to go in a whole other direction...

While on that trip, we kept seeing buses for Disney Cruise Line. Big, sleek, shiny, red and gold buses that seemed to pull us in like moths to a flame. We could be mid-sentence in a conversation, and when one of those buses went by we just stopped and stared. By the end of the trip we had avowed to each other, "Some day we will be on one of those buses!" And by the time we got home, the wheels were turning yet again...

And in February 2002, it was US on one of those beautiful buses, and we stepped foot onto the Disney Magic for the first time. That week aboard that ship, and on the islands we visited in the Eastern Caribbean, was beyond any words I could put here. "Magical" doesn't even cover it. We were hooked completely. And for the next few years, we were both on the Disney Magic and at Walt Disney World every year. Even my family thought I was insane at that point. After all, Caribbean cruises and trips to Walt Disney World on a single mom's paltry budget?

But they don't call me the Bargain Queen for nothing, and I had quickly learned the money-saving tricks for Disney trips. (Thank you again, DIS boards!!) And by that point, my son was old enough to sit down and make some conscious decisions with me. We decided, as a team, that this was where we wanted to spend our money -- instead of seeing movies, buying new fancy tv's and such, eating out. This is what we wanted to do, and we were going to make it happen. And happen it has.

One of my very favorite memories was during one of our trips to Walt Disney World, during evening Extra Magic Hours at Magic Kingdom. (That is when a selected park is open a few hours later for Disney Resort guests only -- yet another reason to never, ever stay offsite.) We were sitting on a bench in Frontierland, just soaking up the ambience and taking in all the details that only Disney does so well. There was hardly anyone still at the park, and it was so unusually peaceful. It was a cool early February evening, the little gas lanterns on the old-west building fronts were flickering, the background music was perfect, and we were completely in our element. I'm sitting here listening to that same background music from Frontierland on "Music From the Mouse", and it brings happy tears to me eyes to be taken back to that moment.

Now, our Disney trips are usually in early December, because the parks and resorts at Christmas-time are heart-breakingly beautiful. My dad, my dad's guide dog, and my aunt have been joining us for the past 6 years, and the memories have multiplied. The first time Newley (the dog) met Pluto, we didn't know what to expect. But the CM (Cast Member) playing Pluto got down on all fours several yards from Newley aand crawled the rest of the way, so as not to scare Newley. The interaction between the two was SO sweet, and we quickly had a sniffling crowd around us.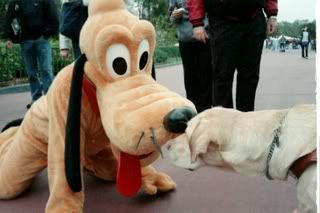 We'll be back in 34 days, and the excitement never lessens, no matter how many times we have been. In fact, to hear us talk about it, you'd think we have never been! But the excitement is because we know what to expect, and that happy familiarity is wonderful as we look forward to favorite things... but also excited because of all the wonderful little surprises that always seem to pop up and serve to hook us even more. I wonder what amazing memories we'll create this time?