I SWEAR this was not premeditated. We were just in Walt Disney World in December (although, as I'm sure many of you can understand, it already feels like forever ago.) We're going on a cruise next February. For once, we were not planning on making it to WDW in December. But it's such a desolate feeling, not having a WDW trip officially in the works... it feels like tumbleweeds blowing across your heart. Blerk.
So I'm minding my own business the other day, when one of the mythical (for me) PIN codes pops up in my inbox. Disney sends them out with apparently no rhyme nor reason, and I have never received one before. The offer was for "Big kids get little kid prices," and sounded like a really good deal. But airfare from nearby Houston is always the issue. When we went in December, it was $500 for DS and I, and that was even better than I feared it would be. It's just too expensive. The whole thing was put out of my mind. (Well, mostly.)
Then the very next morning I get an airfare alert from Airtran for $112 RT from Houston-Hobby to MCO.

What?!?

That fare is unheard of from here. NOW I'm interested. But our favorite resort, Pop Century, always fills up so fast... and my son and I won't stay anywhere else. Surely they are full up by now, since the PIN had been out for a while.
I called, got a super nice Cast Member, and found out that Pop was indeed available, and that with the PIN code it would only be $832 total for my son and I both for 3 nights, with 4-day park tickets including hopper option, AND with the quick-service dining plan. Yeah, like I could pass THAT up!!
Soooo... I have no business doing it, and we will be eating a lot of mac & cheese for dinner between now and then, but we're booked for Dec. 12-15 at our beloved Pop Century.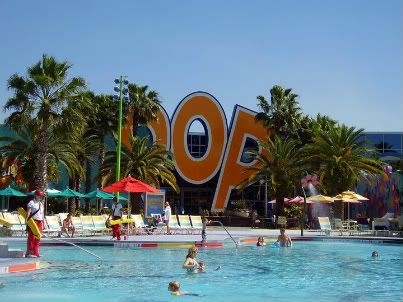 This trip will be a "mom-and-me" trip that I promised my son last time. We love going with Dad and Newley the Wonder Dog, and my aunt, Debbie, but when Tyler Dean and I are on our own we're able to go at a much different pace. We can zip along from one point to another, ride our favorites 10 times in a row if we want, just do exactly what we want. It's good for us to be able to do that once in a while, and we're so looking forward to that. And it's great motivation for me! I finally graduate with my Bachelor's degree on the 11th of December (kids, stay in school the FIRST time!), so that's the excuse I'm using for this trip. Not that I need an excuse, mind you, but it helps to have one in the hopper when some non-Disney-loving philistine rolls his eyes and says, "You're going to Disney AGAIN??" And yet, sometimes they eventually "get" it. My boss of 3 years has never really understood the pull WDW has on my son and I, but after I booked this trip and spent the rest of the day floating around the office on air he said, "You know, I guess it must be pretty neat to have a place that feels so familiar to you and makes you so happy."
And that's the amazing thing about how I feel towards WDW... it's a familiarity that somehow never ever gets old. There are aspects of it that never change, and root our souls there, and then there are aspects that are always changing, always fresh and new. It's an intoxicating combination of heart-warming comfort and giddy excitement. And since booking the other day, I just sit here at work, Disney park music playing in the background (thank you, Live365!!) with a big stupid grin on my face. And once again, my son and I have begun planning the trip, reminiscing over the fun we had last time and excitedly talking about what we're most looking forward to this next time. And with a 13 year old boy,

anything

that keeps them talking and communicating with you is definitely a good thing.
It may be 7 months away, but it just always feels so *good* to actually be booked. Am I addicted to WDW? Maybe... but there are worse addictions. There are

cheaper

addictions, to be sure, but I'll stick with this kind of high, thanks. :-)
So tell me, why are Disney trips so addictive for YOU?